Hey everyone! Its time for a new post, and after making my quarterly Sephora run I knew just what to write about.
I'm not going to lie, I freaking love make-up. Its fun, creative, and I prefer the way I look with make up. That being said, I am a pretty impatient person when it comes down to it, and I can't stand 8 layers of makeup on my face because i'm a sensitive baby. So, I have decided to share with you my favorite makeup products that I have taken the bumpy 2000's makeup road to find.
1. Nars Tinted Moisturizer
If I had to pick one product to live with, its this one. I had always struggled to find something that fits perfectly between a bb or cc cream and an actual foundation, the bb's seemed to melt off my face and look greasy within a few hour. As for foundation, I love full coverage for events and big outings I do not want all that on my face on a day to day basis. This tinted moisturizer covers up small blemishes and my hereditary redness, while looking and feeling completely natural and fresh faced. As an added bonus, it is SPF 30! I can't talk this product up enough, highly highly suggest!
2.Tarte "Tartiest" Black Mascara
My second go to: mascara, found only at the suggestion of a wonderful friend. I have many mascara brands I actually really like, but this one takes the cake as not only is it a great formula, the brush is silicone and never frays or gets clumpy. My eyelashes are half brown half blonde, and this mascara perfectly coast them so they can finally be seen! It holds well all day, and it has lasted me quite some time. The applicator is awesome because it doesn't loose shape like I had mentioned earlier, plus gets those tiny lashes without getting all over your eye.
3. Anastasia- Amrezy
Trends come and go, but when the highlighting trend came out, I was pumped. In the wonderful days of 2000's fashion, I loved putting my pink tinted roll on glitter on my cheekbones and eyes. It was the height of 6th grade fashion, of course. The Amrezy highlighter has been a favorite find of mine this year, I had seen it all over social media and thought id see what the hype was all about. The pigment is perfection, goes on smooth and easy, and there is a LOT of product for the cost. Love love love.
4.Huda Beauty- Obsessions
I have more eye shadow's than I care to admit. I don't know If I would say this eye shadow is my favorite or second favorite of all, but it made the list because I use it the very most. This product was given to me by my best friend for Christmas and I have been obsessed since. Let me just say, holy freaking pigment. This stuff isn't here to mess around. Its a small palette, but the colors in each palette option go so perfectly together it is really all you need. It also blends wonderfully! My favorite is pictured about, warm brown obsessions, but also comes in mauve and electric.
5. Anastasia Brow Definer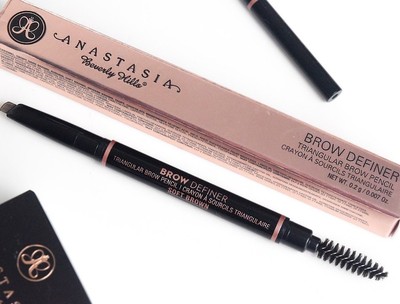 Last but certainly not least, brow definer. Anastasia is very well known for their high quality brow products. I adore the pomade as well, but this pencil has become a life save. It goes on so smooth and quickly blends, the tapered pencil end make it quick and easy to define your brow while keeping it looking natural. Just like my eye lashes, my brows are half blond half brown, so brows being done on a daily basis is a must for my self confidence. I can't even tell you how happy I was when filling your browns became a "thing".
I hope you found some make up inspo from this, I seriously love all these products and I would love to hear your feedback!  Shout out to the awesome ladies who shared the love with me, you guys are the GOAT.
Ill be back soon,
Love,
-S